SEO Principles to Focus on in 2013, from Ottawa: Don't Get Lost in the Noise!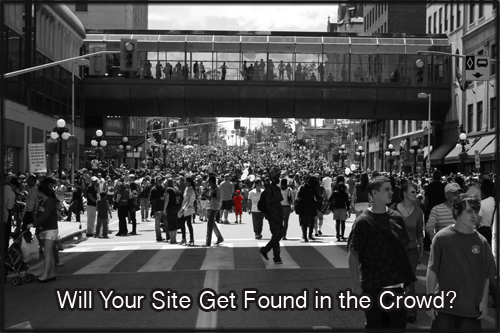 In my Ottawa SEO & SEM company, providing services for clients and connecting with colleagues, I often hear some version of the following question: What are the best practices for effective Search Engine Optimization in today's rapidly changing world of search that will help me grow my business online, and not be completely wiped out by the next Google algorithm update?
What are the Principles of Search for 2013 and Why are They Important?
As the special mix of elements for successful search engine optimization, or SEO, and search engine marketing, or SEM, continue to evolve in 2013, it can sometimes be difficult to know what techniques should be used for both short-term gain and long-term sustainability. It's easy to get confused and distracted by the latest conflicting opinions on prominent SEO forums, or by technical reports from even the most credible SEO sources, like Moz, regarding the Search Engine Ranking Factors for 2013.
Rather than getting caught up in the noise surrounding SEO and SEM techniques or tactics, I think it's worth looking at and keeping in mind the principles of search, that have made Google so successful, over the past decade, at satisfying the information needs of today's knowledge-based society. These core principles are actually pretty stable, as they are centred around Google's mission of providing accurate and reliable information that a customer is searching for as quickly as possible.
Back in the late 90s, when Google first came on the scene, I was a commerce student at the Queen's School of Business studying marketing and IT. The web as we know it was in its infancy, filled with speculators just before the bubble burst on the dot coms in 2000, and wasn't my first choice to search for information for my research papers. Back then it was a crap shoot to try to find decent, reliable websites with information I could trust and reference and that would withstand academic scrutiny in the hallowed halls of Queen's University.
Like most students those days, I headed to Stauffer Library mentally prepared for a grueling session of sifting through obscure journals and reference books, in the hopes of finding a few gems I could cite to show that I had done my research. I went to a librarian and asked her for some help… a sort of where do I start conversation. I remember how she lit up and said that I should try Google, a new search engine that had some pretty interesting features at the time, such as the ability to conduct a reasonably accurate Boolean search.
Still, if you wanted to cross-reference sources and verify their authenticity, you had to be prepared to go several pages deep in the search engine results and sift through reams of sites, documents, forums etc. all with a critical eye for inconsistencies and commonalities to make sure the information you were referencing was accurate.
In those early days, search rankings were primarily driven by the number of links pointing at a site or webpage, and the prominence of keywords on that page, regardless of the quality of the site or the value it provided to the reader.
Over the past 15 years, the Google search engine has evolved into a highly intelligent and complex algorithm with over 200 criteria for indexing and serving up webpages. Like any industry leader, Google doesn't always get it right, but for the most part they are doing a good job following the fundamental principles of how people search for what they want.
Today I can whip out my iPhone, which is essentially attached to my hip, and conduct a query into the digital knowledge repository of the planet to find whatever information I need or fancy on the fly… amazing when you think about it. A quick scan of the search results on the first page of Google, usually satisfies my quest.

SEO Principle #1 – Strive to offer value through your online presence
The first principle to keep in mind so that your traffic will continue to flow and grow through organic search results is to offer value on each page of your site.
In order for people to share and link to your content as a source worth referring to and referencing, your content has to be really good. Write about what you know, in your line of business, and share your special and unique insights with your target market. If you want visitors to your site, give them a reason to visit… Google will pick up on this and reward you through their ranking system.
Google is on a continuous quest to serve up the very best web pages in its search results: pages that satisfy a need, and provide reliable and interesting information that an individual is looking for rise to the top. Keep this principle in mind when you write the content for your pages, choose your keywords, design your site and speak to your online audience, which is another way of saying optimize your site for search.
SEO Principle #2 – Don't even try to game the system
At all costs, avoid buying links, likes, followers etc. as a means to artificially boost the rankings of your site, or to create a false sense of social proof… you will eventually get caught and penalized by Penguin.
Don't try to have several sites competing for the same keywords. Google will know it's all coming from the same source, as every site leaves many electronic fingerprints, and you will be watering down your precious online efforts. It's better to invest your digital resources into making a really healthy, and attractive site that ranks well for a variety of keywords that your target market is using to find what you are selling. There are exceptions, such as having distinct product lines, divergent services, or multiple locations, but generally speaking it's better to have one stellar site than a handful of mediocre ones.
Why do quality sites matter for Google?
Google brings in most of their revenue, to the tune of $50 billion last year, through Adwords… which provides the sponsored links, or paid ads in the sidebar or sometimes at the top of a Google search. People have to be on Google searching for something, in order for Adwords to work through the search network, which accounts for the lion's share of their advertising revenue. If there is less trust in Google as a primary source for information, user levels will drop and adwords revenues will decrease.
SEO Principle #3 – Keywords count

Keep keywords top of mind when creating your web content. They are the window your target market will use to pro-actively find you through search.
Brainstorming for keywords you think your target market will you use to find your site is a good starting point, but more work is required to find the real keyword treasures that will promote your offering. Do your homework to know what keywords have enough search volume to merit an investment in ranking for them, without having so much competition that your site will get lost in the proverbial haystack.
Make sure your content accurately reflects the keywords you are targeting, both in the copy and the metadata, following the SEO best practices dictated by Google. Gone are the days when a webmaster could stuff the keyword meta tag full of terms they would like to rank for & stuff the page in the same way to achieve prominent search rankings. In today's world of search, each page has to accurately reflect the keywords targeted in ways that add real value to the reader.
SEO Principle #4 – Attract links, don't "build" them
When Google was getting started, the number of links (a sort of any link will do world) pointing to a site was one of the most important criteria for determining a site's ranking. This lead to all sorts of link schemes and link farming to artificially boost the rankings of sites, regardless of the quality of the site or the value provided to the searching public.
Attract links, don't build them. Any offsite endorsement of your site, through links, social media etc. will have to be earned through healthy online engagement, and by having great content to begin with.
If your site is worth reading and visiting, it's often worth referencing in the form of backlinks (links from other sites leading back to your site). You can influence this process by engaging and following up with your audience, through social media for example. You can also check out your competition to see what links are pointing back to their site using such tools as Majestic SEO.
Google now monitors to ensure that the links leading back to your site have occurred naturally and as a result of the quality of the information you provide, which you can see through Google Webmaster Tools. If your link profile is suspicious, you will receive warnings and guidance as to how to clean up your bad links, and remove any penalties that may be hurting your rankings.
The bottom line for SEO in 2013: Stick to Basic Principles

Don't get too caught up in all the noise surrounding SEO trends or the latest Google changes. Building a quality website and web presence that truly adds value for visitors to your site, coupled with some SEO basics, is the best way to grow your organic search traffic, and not be penalized by Google's increasing efforts to clean up the web. This takes effort, creativity, and a consideration of the principles of search that govern the operation of Google and the evolution of the web.
If you would like an expert consultation on how these principles can be applied specifically to your site, we would be happy to coordinate a Professional SEO or SEM consult.
Tags: google penguin update, ottawa search engine optimization, ottawa seo, ottawa seo company, ottawa seo services, search engine marketing ottawa, search engine optimization ottawa, sem ottawa, seo basics, seo ottawa, seo services ottawa