Strategies for Creating & Writing High Quality Content for the Web with SEO Optimization Tips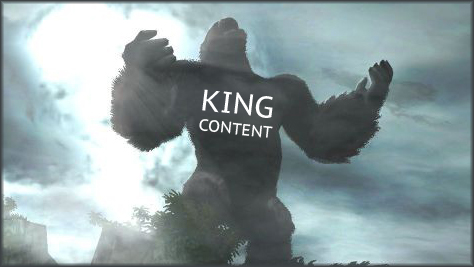 When it comes to the web, you have likely heard the phrase, "Content is King." More than ever these days, high quality web content is rewarded by search engines with high rankings in search results, and is more likely to be virally promoted in social media. This makes sense, as most of us don't want to waste our time sifting through and reading reams of poor-quality or mediocre web pages to find the gems we're looking for. So what exactly is great content for the web, and how do we create it?
Great Web Content is… well written, interesting information about a trending or popular subject that captures the attention of your target market (the folks you want your message to reach), and which inspires your audience toward a desired call-to-action, examples can include: a newsletter sign-up, digital word-of-mouth promotion in social media, an online purchase of your product, or a request for more information about your service.
Write your content first, then Optimize for Search.  For almost any decently written piece of text, there are going to be excellent keywords that can be used for search engine optimization, and which can be found with a bit of SEO keyword research and know-how. Once these keywords are determined, effectively infusing them naturally into your content and strategically in the metadata for your page, will work wonders to boost your rankings. As your keyword list grows, you will have new SEO copywriting ideas for great future content, and develop keyword themes that will increase your overall site authority in your subject matter… over time you might even start to see some Google Sitelinks appear in the search engine results pages (SERPs) for your site… but first, take care of the writing!
Start with the source of great content: You, the author. In a snowstorm, billions of snowflakes fall to the earth, yet no two are exactly the same in their intricate crystalline structures. Similarly, each one of us has a unique perspective and set of experiences with which to interpret the world around us. Celebrate the diverse elements that are you, by sharing some of these in your writing.
You're the expert!  You will likely know several things about your area of expertise, or where you see your industry going, that relatively few people know about. I'm not suggesting that you give away all of your trade secrets freely, but I believe that if you can shed enough light on your subject area for a visitor to quickly gain some level of understanding, the value that you transmit will garner further interest in your site and in your offering.
Staying informed about current events, generally and in your industry, will guide you as to what kind of information your target market may be looking for, what items are trending, and who the key personalities and thought-leaders are in your particular line of business. Besides, with our ubiquitous access to the internet, this kind of ongoing 'research' can be fun and entertaining, and also provides great fuel for social media engagement.
Listening to and resolving customer issues is another great source of content-generating inspiration. If a few people have raised an issue or expressed a need that you've been able to solve or satisfy (they are likely the tip of the iceberg) many others out there in cyberspace will probably be interested in what you have to say on the topic.
Pay attention to writing mechanics.  Poorly constructed writing is not only an immediate turnoff for most people that can hurt your credibility as a subject matter expert, it is also an easy element for search engine algorithms to assess with spelling and grammar checkers when determining where you webpage should be ranked in the search results.
Finally, Convey your passion for what you do!  If your readers sense you care about your subject matter, they will likely feel that you care about their success. Feelings of shared interest and success are contagious… and could even go viral!
So go ahead and contribute to the knowledge base of our planet, while growing your business online, by writing some great content for the web. When you have your amazing piece of writing ready to publish on your site, make it search engine friendly with solid SEO principles so that your intended audience can find what you've worked hard to create. If you want to chat about how to do this, Samurai Marketing Style, or if you're looking for an SEO services company in Ottawa, drop us a line or request a Professional Consult for your site!
Tags: content is king, seo company ottawa, seo content writing, seo copywriting, seo keyword research, seo optimization tips, seo services ottawa, seo strategies, seo tips, web content writing, writing for the web