Synergies in SEO & SEM for Better Search Engine Optimization and Digital Marketing Results!
Samurai Marketing, in Ottawa, provides sustainable SEO & effective SEM synergies leveraging social media and emerging digital marketing channels! Have you're search engine optimization and marketing efforts frozen over with inactivity in the dead of winter? Maybe it's time to grab a warm mug of your favourite java and consider a different approach?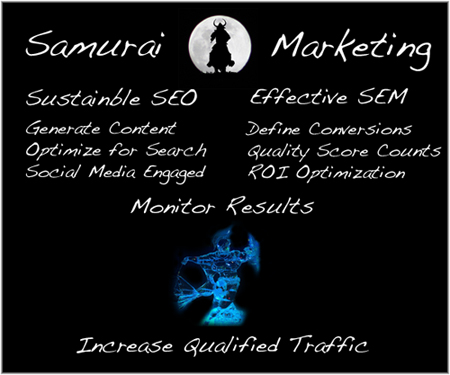 In our nation's capital, we embrace the bitter cold by celebrating Winterlude. At Samurai Marketing, we embrace shifts in the evolving SEO (the process of acquiring organic web traffic in popular search engines) and SEM (purchasing search traffic through pay-per-click ad auctions like Google Adwords) search-scape by staying abreast of the important developments by Google and the other major players, to keep our clients informed and not left out in the cold.
As a seasoned digital marketing consultant, based in Ottawa, I can help you attract your target audience through sustainable search engine optimization and effective search engine marketing. If handled correctly, the combined elements of SEO and SEM create synergies that can lead to a greater volume of qualified traffic to your site.
SEO & SEM Components for Successful Digital Marketing
The ultimate purpose of any search engine, social media platform or website is to provide rich, timely and accurate information that a specific audience is seeking on a particular topic. From this entry point, prospects can be engaged along the conversion cycle, i.e. guided on the digital path that leads them to the desired destination and outcome to convert.
Sustainable SEO that won't leave you in the lurch when Google changes its search algorithm is achieved by:
Creating a continuous flow of high quality relevant content relating to your business
Optimizing your precious content for search using valuable keywords (with significant demand and reasonable competition) and well structured SEO metadata that conforms to the latest standards of Google and Bing
Leveraging social media to engage your target audience, and proliferate your content organically
Effective SEM that generates a measurable return on investment from Google Adwords is achieved by:
Starting with the end in mind: when you pay for clicks by your prospects, where do you want them to go and what do you want them to do on your site (to count as a conversion)
Creating high quality, information-rich landing pages, supported by enticing ad copy and relevant keywords to land your prospects on your site using Google Adwords, Bing, Facebook & LinkedIn pay-per-click (or impression) ads etc.
Optimizing keywords, demographic targets, ad copy and landing pages to get more conversions for less money over time by split testing and concentrating resources on the funnels that are converting
Both sustainable SEO and effective SEM require an ongoing, steady hand at the wheel to monitor results, looking for refinements that draw even more qualified traffic back to your site and generate more revenue for your business!
Sustainable SEO (Organic Google Search)

Offer an On-going Stream of Quality Content on Your Site

Most people have something unique or special to say about their business. The trick is getting these bits of knowledge and insight on to a digital medium for others to share and derive value from.
The place to start is on your website by offering a stream of quality content that your prospects will find interesting, engaging, informative or generally beneficial enough to help your site truly stand out. Competition is only going to grow in 2014, as everyone competes for audience attention by producing more content.
I work with lots of different clients having a wide range of writing abilities and creative time and energy, collaborating in ways that are mutually beneficial. I can edit your raw material, write or suggest creative posts and topics, or any combination thereof that makes sense in order to produce searchable content that speaks to your target audience.
Optimize Your Content for Search
After creating some decent pages or posts about a business that you stand behind, it's time to optimize everything for search. This means making sure that your content is tagged with appropriate SEO metadata that search engines and social media platforms can easily index and serve up to your audience for keywords they are using.
Don't be dismayed by the array of constant changes that Google and all of the other players are making on a monthly basis, these days. The core principles of search, and the algorithms that govern them are actually pretty stable: produce excellent content; use SEO tags effectively; socialize your material through popular social networks as a mean to spread the word and garner organic links; monitor the process for what's working and what's not… repeat.
Of course, change is always in the works when it comes to search, such as Google's Hummingbird Update (Search Engine Land), released in 2013, that is starting to gear SEO more toward semantic and conversational search, with search engines seeking to have a better, interpretive understanding of what a searcher is seeking. As the really important changes to SEO and SEM come into effect, Samurai Marketing is there to offer guidance and suggestions for strategic changes where required.
Use Social Media to Promote Your Content Offsite
As human beings we are social creatures. We like to share interesting stories and tidbits that connect us with our friends and the world around on us. Facebook, Twitter, Google Plus, You-Tube etc. are excellent channels to engage others who are interested in us or what we have to offer. You can build quality social media marketing channels by creatively engaging with and caring about your audience… they in turn will take notice when you publish your excellent content and spread the good word! Both people and search engines can quickly see that actual visitors are endorsing your material, providing valuable social proof to validate your content.
Google is particularly good at sniffing out when fake Facebook accounts, for example, have been used to socially endorse a page or post, so avoid any kind of buying of likes, followers etc. If it sounds too good to be true it likely is, and fly-by-night schemes can send your rankings plummeting or even get you de-indexed from Google.
Effective SEM (Google Adwords)

Start with the End (Conversion Goals) in Mind
Where search engine optimization (SEO) finishes, search engine marketing (SEM) begins; that is, with the end in mind. A website can be used for many commercial purposes: to raise the profile of a business; to solicit leads; to share a particular piece of information; to get people to try something new (free or paid trial), and of course various ways of selling online. Starting with the end in mind is crucial for effective search engine marketing where you are paying for your web traffic. You want to know what you are getting in return and if your efforts over-time are increasing your ROI.
Think about the exact places on your site that your would like your visitors to go to and exactly what you would like them to do when they get there. Then you need to make sure that you can accurately track how many visitors are fulfilling the desired outcome, or counting as a conversion, which is typically achieved by placing conversion-tracking code on a thank-you or confirmation page. The number of conversions divided by the number of visitors to your site is your conversion rate. Your conversion rate is an excellent measure of the quality of traffic your site is receiving, as opposed to just the quantity of visits.
Aim for a High Quality Score for Your Ads, Keywords and Landing Pages
In a pay-per-click ad auction like Google Adwords, there is a relationship between the ad copy, keywords and landing pages. How enticing and relevant are your ads for your target market? Are your keywords terms that your audience uses to find you, without being overly expensive to bid on? Will your prospects be satisfied enough with the information on your landing pages to continue along the conversion funnel, or will they be disappointed and simply increase your bounce rate? The coordination of these important elements takes careful consideration, but if you get it right, you will pay less for your ads, and your ads will be served more often and in a better position on the page, often resulting in higher click-through and conversion rates.
Ongoing SEM Optimization
With conversion tracking in place, and careful attention to all the elements that compose an effective search engine marketing campaign, ongoing management and optimization are a must. Google adwords is a complicated auction with many moving parts, requiring attention to detail and some knowledge of the inner workings. You may experience good initial results based on your spend levels, only to see these tank as Google assesses the actual quality of your campaigns up against your competitors. Conversely, careful management and knowing which elements to test can increase performance over-time, or the ability to rescue an important campaign when the results start to slide. Performance is never straight-line: "It's a long way to the top if wanna rock 'n' roll," – ACDC.
Monitor Your Results, Test Ideas, Refine and Repeat
SEO and SEM efforts can work in concert to promote your business objectives; however, both disciplines require ongoing monitoring of results; testing of ideas in a constantly shifting digital marketplace (Source Metrics); refining various campaign elements to achieve an optimal mix; and repeating successful elements… "stay thirsty my friends," – The most interesting man in the world.

There are many tools out there to analyze the effectiveness of your SEO and SEM efforts. Google Analytics is an excellent free tool that allows you to monitor web traffic levels, the popularity of your various pages; define and track conversions, goals and other key performance metrics. This enables us to identify troubles spots, if traffic or goals are declining in an area, and build on the content of successful pages and campaigns that are bringing in the kind of traffic we want.
Combining SEO & SEM
Search engine optimization for organic results and search engine marketing for paid results can work very well independently, but can also be combined for synergy and greater overall results. For example, if a site comes up on the first page in the search results, and also in an ad on the sidebar, what kind of impression does this make on the searcher? A well optimized landing page for organic search would likely increase the quality score for a paid campaign deploying targeted keywords that are well reflected on the page and shared between the two streams. Data garnered from paid campaigns can provide a sense of business value for particular keywords, which can then guide organic SEO efforts. SEO and SEM provide different, but related data sets that you can use to improve your overall web presence and digital marketing results.
If you would like to have your site reviewed for SEO and/or SEM, contact Samurai Marketing to book your strategic SEO consultation!
Tags: digital marketing ottawa, marketing ottawa, ottawa online marketing, ottawa sem, ottawa seo, ppc ottawa, search engine marketing ottawa, search engine optimization ottawa, sem ottawa, seo ottawa, seo samurai, social media marketing ottawa